Date/Time
Date(s) - 06/27/2018
7:30 am - 3:00 pm
Add to Calendar | Add to Google | Download .ics
Location
QLN Conference Center
The Allan Block Contractor Certification Training Seminar is your opportunity to enhance your knowledge and learn practical skills that have helped thousands of professionals build their SRW wall construction business.  As the industry continues to grow and advance, the requirements for contractors to be certified in SRW practices is becoming the standard and is part of the Best Practices Design initiative for zero wall failures. This course is nationally accredited to fulfill this requirement while providing valuable information and hands‐on experience!
The cost for this course is $35 per registrant for the first two registrants from a single company. To add additional registrants to your group, please contact Ray Romero at Ray.Romero@orco.com. This course includes professional hands-on training, all training materials, and lunch.
Why Attend the Certification? 
Learn basics for SRW installation and how to ensure your walls last a lifetime
Best Practices for SRW REQUIRE contractors to be certified
Increase efficiency in design, estimating, or building phase of your projects
Differentiate yourself from the competition
Project leads/referrals
Annual rewards program (Get bags, coolers, dead blow hammers, levels, etc.)
Become aware of industry advancements
ICPI Accredited Course (7 Credits)
Program Agenda:
7:30 AM            Registration & Breakfast
8:00 AM            Course Presentation  
12:00 PM          Lunch will be provided 1:00‐3:00 PM   Hands‐on**
**wear comfortable clothes and appropriate shoes for participation in the hands‐on session
Certification Requirements:
Course attendance (incl. the hands‐on portion)
Course Exam
Participation in the construction of an Allan Block wall project
Proudly Presented by: La Cadena Masonry Supplies Inc., ORCO Block & Hardscape, Allan Block
DON'T WAIT! CLASS SPACE IS LIMITED Please register by June 25, 2018 below or email Ray.Romero@orco.com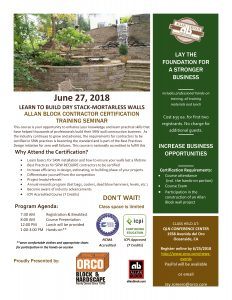 RSVP
Reservations are closed for this event.